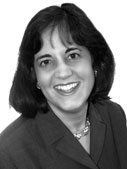 Gaby Levitt Altman
Director, Marketing Services
In April 2007, Gaby joined Altman Investment Management, LLC, a Registered Investment Advisor based in Princeton, N.J. As Director of Marketing Services, her strategic marketing expertise and client dedication, from having orchestrated successful national campaigns for leading firms in the financial services industry, allow us to provide clients and prospective relationships with effective custom communications. Her extensive knowledge and 30+ years of experience working with business partners and customers, helps us in our outreach efforts to advise clients on investment solutions that "best fit" their individual lifestyle and financial circumstances.
Prior to joining Altman Investment Management, Gaby was a Vice President with Wells Fargo Home Mortgage's Marketing Services Group, spearheading marketing initiatives in support of the Corporate/Institutional Group and Emerging Markets business teams. Over the course of 15 years with the firm, she was responsible for strategic planning; development and implementation of acquisition, retention and business-to-business marketing efforts; support of internal business partners and sales force; relationship management for several external Affinity clients; and oversight of market research studies. Before joining Wells Fargo Home Mortgage (formerly known as Prudential Home Mortgage and Norwest Mortgage), Gaby worked for The Bank of New York as an Assistant Vice President, managing broadcast and print advertising, direct marketing and sales promotion activities for the Retail, Small Business and Private Banking Divisions. Her career included development and implementation of national direct marketing campaigns, advertising, telemarketing and public relations for Merrill Lynch, Pierce, Fenner & Smith as well as for Metropolitan Life Insurance Company.
Gaby received her B.S. degree from Mount Holyoke College in South Hadley, Massachusetts, with a double major in Cultural Anthropology and Sociology. She lives in Princeton with her husband, Peter, and four children.