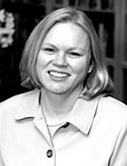 Asta Haas-Heye
Director, Business Operations
Asta joined Altman Investment Management in January 2003 as Director of Business Operations. Her responsibilities include the control of the firm's portfolio accounting system, production and verification of client investment reporting, as well as the management of new business implementation. Additionally, Asta supports the maintenance of the performance records for our client investment accounts.
Asta is involved in all aspects of the business, including data storage, security and Information Technology initiatives.
Prior to joining our company, Asta was an Assistant Vice President with Merrill Lynch Investment Management. During the 13 year career at MLIM, Asta's responsibilities included implementation of new accounting, order entry and trading systems in the Private Investment Management division.
Asta commenced her Wall Street career in 1984 when she joined Deak International LTD, a New York foreign exchange and precious metals trading firm. She received her B.S. degree from The State University of New York at Purchase, NY and has completed courses in management training and computer software. Asta is fluent in Finnish with a working knowledge of German and Swedish.